EXTERIOR
The exterior of MESMERIZE is pretty much done, as far as I'm concerned. It's had a full Chameleon respray, which was done before I owned the car, in 1998. Personally I don't think I could justify spending the amount of money on this sort of respray that it would've cost... so I'm glad I didn't have to make that choice!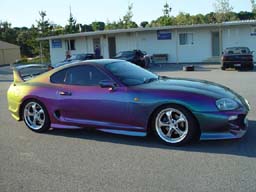 The paint itself is a Protec 5-way Chameleon, and as you can see, there are a lot more colour changes than most of the "standard" two toned chameleon.
The main colours are Green (Straight on), Blue (Slight angles), Purple (Most angles), Bronze (Sharper angles), and Gold (Very sharp angles). It is very dependant on Sun angle and viewing angle relative to the light.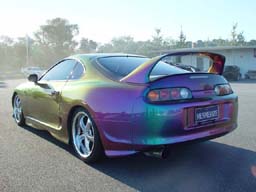 The Wheels are WORKS 18" Chrome 3 piece. They are 18x9" rear, and 18x8" front (265 rear, 235 front).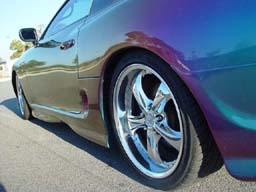 The rear spoiler, rear aprons, and sideskirts of the bodykit are stock Supra GZ (Luxury model) options, and the front of the car sports a custom modified Veilside bar. It was spliced up the sides and reglassed to increase clearance from the road, and to bring it in line with the rest of the bodykit in clearance. Also, the front "Arch" of the veilside kit was filled in, and converted to a Numberplate holder. I came up with this idea after realising how much I despise numberplates being placed over intercoolers or to the side of a car, and I think it came out looking great!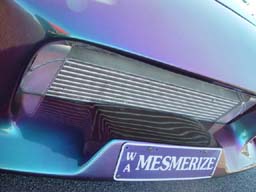 To round off the look, the aftermarket springs give the car a low, sleek look, and the exhaust gives it a menacing growl.
Click here to view the MESMERIZE Webcam, and watch us while we work on the big upgrade!