STEREO
The Stereo is a full custom install, and I specifically wanted it built for sound quality over loudness. As my daily driver, I'm more interested in hearing crisp, nice sounding music while I'm driving than ear shattering loudness which no one other than an SPL judge would appreciate.
Having said that, the stereo has still managed a respectable SPL score of 138.4 decibels, which I'm more than happy with for now.
As for sound quality, it's right up there in the higher end of the competition.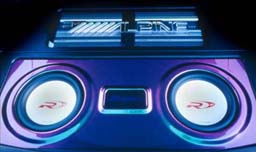 The System -

Alpine SPX-177A 6.5" Component Speakers, speakers and tweeters custom mounted in the doors.
Alpine SPX Ultra High Quality Crossovers custom mounted on passenger floor.
Alpine SWR-1240 Type R Subwoofers (2) custom installed in the boot. (RMS power 300w, Peak power 1000w)
Alpine MRV-F409 Special Edition Amplifiers (2) custom installed in the boot. (40wx4 (4 ohm Stereo 0.08% THD @ 12.0V 20hz-20khz)
Alpine CDA-7876RB CD Deck (60Wx4, Bass-Engine Plus, 4V Pre-Out)
Empeg Linux based MP3 player. 12gb capacity, full screen visualisations.