INTERIOR
The interior of MESMERIZE is largely stock. As stereo is covered in the Stereo link, most of it will be detailed in there.
HKS Boost Gauge is mounted in the right hand Aircon vent.
Apexi S-AFC is mounted on the centre dash, angled towards the driver.
TRD 320km/h Speedo.
Chameleon painted door handles.
Chameleon painted Speaker mounts.
Alpine SPX Crossovers mounted on Passenger floor, with Purple Neons (Off/On/Bass Flash).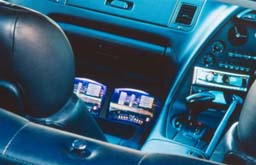 Custom installed Alpine Subwoofers in boot, surrounded in Chameleon panelling.
Also in boot are Alpine Amps, installed under Laser cut Perspex, with Green and Purple Neons lighting the perspex (Off/On/Bass Flash).
Standard GZ Supra Leather Seats.